Footballers and Allied Workers Union of Zambia (FAWUZ)
Zambia player union FAWUZ wants fair remuneration for all players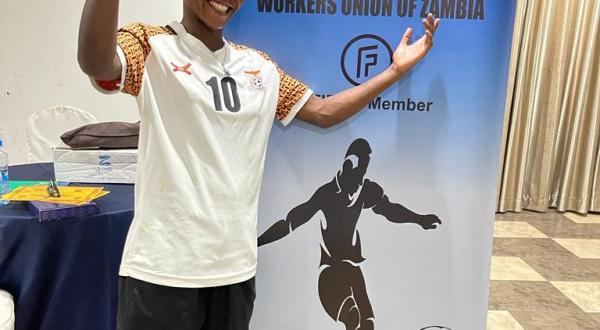 One year ago, two player unions became a member of FIFPRO, while another was introduced as a candidate member. One year on, we look back with these three unions. This week, we talked to Zambian player union FAWUZ.
"Players in our country have noticed that we are a FIFPRO member now," Linos Chalwe, the General Secretary of the Zambian union, told FIFPRO. ''Some of the notable achievements we have accomplished are; We sponsored Solwezi Academy during the 2021/2022 FAZ Women's National League Play Offs that were held in Lusaka. We donated assorted groceries to retired football player Shy Kumwenda and Copper Queens player Mary Mwakapila who has been unwell for some time . Currently we are running a BACK-TO-SCHOOL campaign. The aim of this campaign is to help footballers who are still in school and those willing to go back to school''.
 "We have gone a step further thanks to all the knowledge that we have received, which we have tried to trickle down to our players."
Chalwe, a former national team player, mentioned various examples, such as FAWUZ' efforts to create a standard player contract, their relationship with the Football Association, and their support for the women's National team.
"The women's team has just qualified for the Africa Cup of Nations, but the players get next to nothing," Chalwe said. FAWUZ is trying to arrange a fair remuneration for them and is in talks with the country's Football Association (FAZ) and Ministry of Sports.
"We've had many sessions with the players. We would tell them, if you perform on the field, then you give us the ammunition to support you.  In 2020 they qualified for the Tokyo Olympics, as the only African country. In appreciation for them being the first Zambian National Women Team to Qualify to the Olympics We Honoured them with FAWUZ Merit Award and recently they qualified for Morocco 2022 Women's Africa Cup of Nation (WAFCON). So now, we can go into the boardroom and say "Look at what these women are doing. How can these women walk away with just hundred dollars? Give them a decent remuneration. Gone are the days that you just play for the flag."
The football association has set up a professional women's league, but according to Chalwe not all clubs have provided their players with contracts. "The working conditions are pathetic. We are in talks with FAZ. We know about Morocco, where the federation created a special women's football development plan (https://fifpro.org/en/supporting-players/competitions-innovation-and-growth/global-employment-market-for-women-s-football/raising-our-game-in-morocco-interview-with-kelly-lindsey/). Why can't FAZ do the same? If they set up a professional league, why can't they spend some money on that? They receive money from FIFA to develop the women's game. That money has to trickle down to the players. They are literally playing for nothing."
Regardless of the aforementioned words, Chalwe says that FAWUZ has a good working relationship with the FAZ. "Our modus operandi has been not to confront them. We are engaging, discussing and seeking solutions with them." 
For instance, FAWUZ and FAZ are jointly working on a standard player contract, which the union hopes to get approved before the start of the 2022/23 season. "Health, insurance and accommodation should all be mentioned in the contract. Currently some of the contracts don't have these basic requirements. We will be running the Standard Contract past FIFPRO for guidance."