Footballers and Allied Workers Union of Zambia (FAWUZ)
NALI COMPLETES PHYSIOTHERAPY IN NEW ZEALAND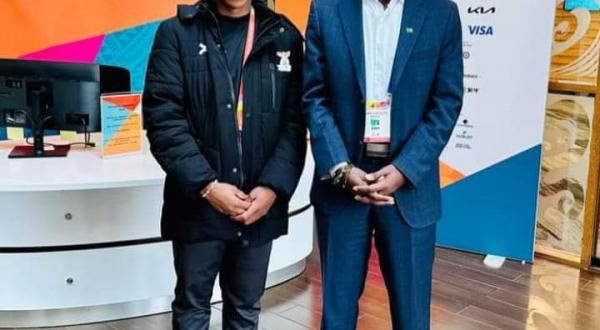 Zambia's Copper Queens first choice goalkeeper Hazel Nali has completed her two and a half months of physiotherapy and rehabilitation at St. George's Hospital in Christchurch, New Zealand, following an Anterior Cruciate Ligament (ACL) reconstruction of her left knee.
The first Secretary Press and Public Relations
Zambia High Commission to Australia and New Zealand Charles Mucholo has issued a statement on the status of Nali.
Nali got injured in July 2023 just weeks before the FIFA Women's World Cup and stayed behind in New Zealand where she underwent surgery before she began the process of healing and physiotherapy.
 
Both her surgeon, Mr Andrew Vincent, and Physiotherapist Ms Emma Beattie, said they are happy with the progress she continues to make, now that Hazel has restored the basic range of movement and strength measures of her knee.
The surgeon and physiotherapist have outlined the next stages of Ms Nali's rehabilitation.
Her next stage is strengthening and conditioning her knee, a phase that is anticipated to take between three to four months, and one that they are comfortable with, which can be delivered by a suitable therapist in Zambia. She is deemed to travel.
Nali will then still have to complete two more stages of ACL rehabilitation, which includes plyometrics and agility work.
Nali has thanked the Zambian Government for covering her medical bills and FAZ for their support as well as the love she received from the Zambia community in New Zealand.
The Zambia High Commissioner to Australia and New Zealand Dr Elias Munshya said the government attaches great importance to the well-being of its citizens.
Dr. Munshya said Zambians are looking forward to watching Ms. Nali is playing football once her recovery is complete.
credit FAZ