Footballers and Allied Workers Union of Zambia (FAWUZ)
James Chamanga: "My background made me stronger"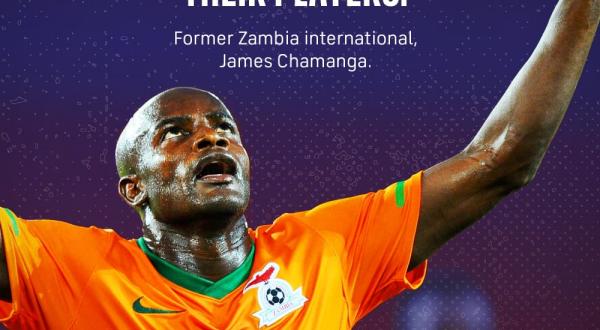 James Chamanga was part of Zambia's 2012 Africa Cup of Nations winning side and spent 10 years playing in China. Now 43, Chamanga plays in Zambia's top-flight with Red Arrows.
By James Chamanga
Growing up was very tough. My parents died when I was four years old. I had to move to my aunty's house. She is the one that raised me, but there was never any money.
I didn't have money for boots. When I played, I had to pay a small amount to borrow a pair and bring them back after the game.
When I was 15, my older brother started looking after me, but he could not support me fully. At times I would go to matches and training without having eaten.
I always believed that one day I would be able to overcome this poverty through football. That background made me stronger because I resolved that I would make something of my life and help support my family. I always had the belief that I could become a footballer, even from a young age.
I became a professional first in Zambia, then moved to South Africa, and then to China. It was in China that I learned the importance of discipline.
The Chinese are so hard-working and know how to organise themselves. On the pitch, those values are important too. If you can't organise yourself in a game and work hard, then you can't have success.
That discipline has allowed me to still play at the highest level in Zambia today, despite being 43. I am keen to play for another two or three years and hopefully inspire a few other players. I don't get chosen because I am 43 – I get chosen because I can still compete.
I am also able to show players how they can keep in shape in order to play for a long time. My team-mates see my commitment, my effort and the diet that I keep. Once players have accepted that these things can help them, they in turn can also help others.
I don't have to play, though. I have fulfilled my dream of supporting my family. I'm really playing to inspire young players. That is one of the reasons why I joined the Footballers and Allied Workers Union of Zambia (FAWUZ). I want to help players prepare for life after football too.
I recently attended a career transition programme organised by FIFPRO Africa and UEFA. I was one of 18 players there. We looked at management, financial literacy, broadcasting – all sorts of areas that you could become involved in after your career. It helped me become more comfortable about life after football. I am not afraid of retiring, and I want to help younger players find their way.
The other reason why I joined the union is that I want to improve conditions for players. And I am not talking about individual conditions like wages and things like that, even though they need to be better as well.
Zambian football will only improve if the conditions improve. If players are playing in a dilapidated environment, their attitude will be like the environment. We are looking at changing clubs one by one. Instead of giving clubs money for winning the league, we should improve their facilities. There are many things that players need: a quality pitch to train, a changing room that is organised and usable, a gym, a swimming pool.
Players should not have to go away and then have to come back all the time; they should have what they need in one place, where they train, are treated, and matches are analysed. That is the modern way. By having such facilities, the mind of a player will also be modernised. They will think differently. By doing that, the league will improve.
We should fight for these conditions. It will be difficult, but if a club sees another club doing it, then the others will follow.
At first the club bosses will not understand why the money they won should be invested in improving the facilities. They will soon realise, though, that by investing in the facilities, they are investing in the players. And if the players are transferred to Europe, they will receive huge returns on their investment. Currently, Zambian football is not highly regarded; the standard is not good. We need to talk to the club bosses and tell them that we can improve their club.
I was lucky. I found my way, even though I had to overcome all the odds. If I did not have boots for playing, I did not mind. I had to travel a huge distance to train, I did not care. What I knew was that one day, I had to play at the highest level to do something with my life and for my family.
story by FIFPRO