Footballers and Allied Workers Union of Zambia (FAWUZ)
FIFPRO Africa strengthens relationship with CAF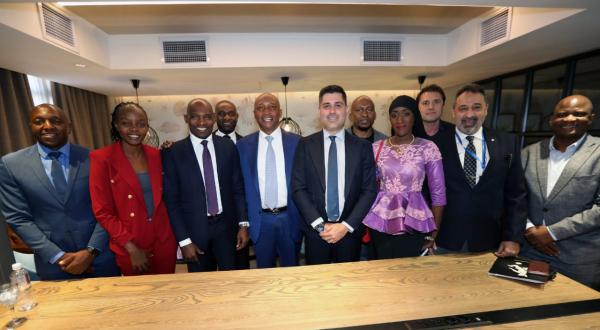 FIFPRO Africa strengthens relationship with CAF
Footballers Union of Botswana played host to FIFPRO Africa general assembly in Gaborone
CAF President Patrice Motsepe vowed to extend cooperation agreement with FIFPRO Africa
Event highlights included panel on modernising professional women's football in Africa post-Women's World Cup, as well as announcement of campaign on fake agents
The Footballers Union of Botswana (FUB) welcomed their colleagues from other African player unions this week, as they hosted the FIFPRO Africa general assembly where several key stakeholders of African football were in attendance.
Confederation of African Football (CAF) President Patrice Motsepe and Head of Women's Football Meskerem Goshime were present at the event, which highlighted how the continent's player unions have been going from strength to strength.
President Motsepe discussed CAF's collaboration with FIFPRO with FIFPRO Africa President Geremie Njitap, FIFPRO President David Aganzo, and FIFPRO Africa General Secretary Stephane Burchkalter among others. President Motsepe promised CAF will extend its cooperation agreement with FIFPRO Africa, which expires in December this year, and he agreed that CAF, its member associations and FIFPRO Africa should aim to create collective bargaining agreements.
"Collective bargaining makes sense," President Motsepe said. "It is all about the players, they are at the heart of football. The talent of our African players is well-known worldwide, but we, the stakeholders in African football, have to invest more in them, respect their rights more and protect them more. The next time I am going to address the CAF general assembly, I will discuss with all CAF member associations that they commit themselves to help advance the rights and rights of football players in Africa together with FIFPRO and its unions."
FIFPRO Africa President Geremie Njitap welcomed President Motsepe's words, and added that FIFPRO Africa is ready to further develop its relationship with CAF, including having regular meetings, and cooperating in various projects to educate, develop and protect players.
He said: "We want to work more closely with President Motsepe and CAF. The visit of the President showed that he values our relationship, and with his engagement, his kind words and the way he emphasised that the players are at the heart of football, he gave us the impression that both our organisations are heading in the same direction."
David Aganzo, the first FIFPRO President in 14 years to visit a FIFPRO Africa general assembly, said he enjoyed the "intense" two-day meeting in Botswana. "I thank FIFPRO Africa for welcoming me," he said. "I liked the proximity and transparency of their work. The African representatives are working together as if they are a close family, and they are trying to make each other stronger. I think this is an example for other divisions."
The general assembly also saw engagement from the host country's governing bodies, with Minister of Youth, Gender, Sport and Culture Hon. Tumiso Rakgare and Botswana Football Association (BFA) President Maclean Letshwiti part of the proceedings.
BFA President Letshwiti addressed the good collaboration between his organisation and FUB and how they both advanced football in Botswana by setting up a national dispute resolution chamber and created a standard players contract – one of the few countries in Africa to do so. "The players are the most important asset of the game," Letshwiti said. "Of course, we fight with the union, but at the end of the day we understand each other's importance."
Knowledge sharing
The FIFPRO Africa general assembly provided a platform for domestic unions to update each other on the work being carried out in the wider region, as well as shaping the division's collective vision.
Highlights of the event included a panel entitled, 'How to modernise professional football in Africa after the 2023 FIFA Women's World Cup', as well as the announcement of a campaign on fake agents in Africa coming soon.
With just months until the FIFA Women's World Cup, where a record four African nations will compete, FIFPRO's pathway to the tournament's global conditions and compensation was in focus. It included a panel discussion on how to modernise professional in Africa after Australia/New Zealand 2023, featuring:
Meskerem Goshime, CAF Head of Women's Football
Sarah Gregorius, FIFPRO Director of Global Policy & Strategic Relations
Teresa Caleb, FIFPRO Africa board member, CAF Women's Football Committee member, and Vice President of Kenya player association Kefwa
Tsholo Setlhoko, BFA Women's Football Manager
Bonang Mosetlha, FUB Vice President and Botswana women's national team captain
FIFPRO Africa's committees reports were also discussed during the two-day event, as well as FIFPRO's global strategy, stakeholder relations, legal matters, and the announcement of a fake agents campaign – done in conjunction with the International Labour Organisation and the Didier Drogba Foundation – which will be revealed soon.
"For the Footballers Union of Botswana, this is a historic moment", said the union's president Onalethata Tshekiso, reflecting on the general assembly. "Organising this general assembly, welcoming our colleagues from all these African countries, and the president of CAF - one of the most respected people on our continent – must speak volumes. We, the FUB, are doing something very substantial that is seriously helping to advance the status of professional footballers in our country."
Story Credit: FIFPRO