Footballers and Allied Workers Union of Zambia (FAWUZ)
FAWUZ team paid a courtesy call to the National Team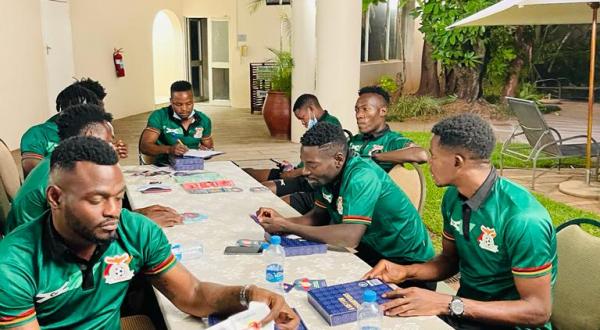 The Footballers and Allied Workers Union of Zambia (FAWUZ) team paid a courtesy call to the National Team last evening at there base in preparation for the Qatar 2022 World Cup on Saturday against Mauritania at home and Tunisia away on  Tuesday.In the same atmosphere the General Secretary told the players to give a big round of applause to Miguel Chaiwa U17 captain who got his first National Team call-up.
FAWUZ General Secretary Mr Linos Chalwe told the Chipolopolo to go for it with their heads up high and win the game for Mother Zambia.FAWUZ also shared the FIFA proposed 2 year World Cup , Club World Cup and the 3 window period, some players were happy about the new proposal while others preferred the normal calendar.
Mr Chalwe told the players that the most important document one can keep in football is his contract because it contains the rules and regulations of the club.He also urged the players to treat the Union like it's there home because we are just a phone away and the Union is" for the players by the players."
In conclusion the General Secretary awared the players who performed well National Team and Club level with the Secret Balance of Champions book to the following players;
Moses Phiri
Fashion Sakala
Patson Daka8
Lubambo Musonda
Kling Kangwa
Toaster Nsabata
Miguel Chaiwa
Clatous Chama
FAWUZ thanked the technical bench and the players for allowing the union to speak to the players.