Footballers and Allied Workers Union of Zambia (FAWUZ)
FAWUZ General Secretary Mr Linos Chalwe and Green Buffaloes F.C Patron Lieutenant General SD Alibuzwi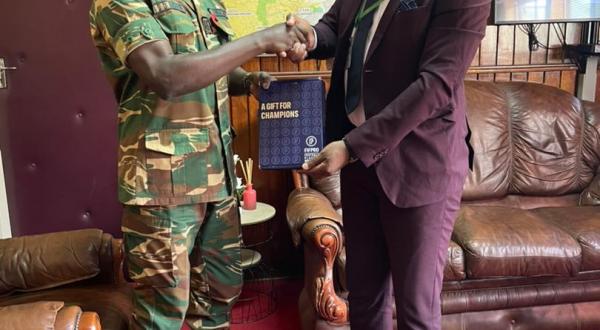 FAWUZ General Secretary Mr Linos Chalwe paid a courtesy visit to Zambia Army Commander and Super League outfit Green Buffaloes F.C Patron Lieutenant General SD Alibuzwi,to discuss Players welfare.
When asked about the meeting, FAWUZ GS said "we had a very fruitful discussion,remember that Lieutenant  General Alibuzwi is not only the Patron for GBFC but also a former footballer who understands the welfare of players both active and retired".
The Lieutenant General was also presented with a Secret of Balance Champions Book and a FAWUZ Z-Card.
#Fromoneexfootballertoanotherexfootballer
#itsallaboutserving