Footballers and Allied Workers Union of Zambia (FAWUZ)
Copper Queens receives FAWUZ Merit Awards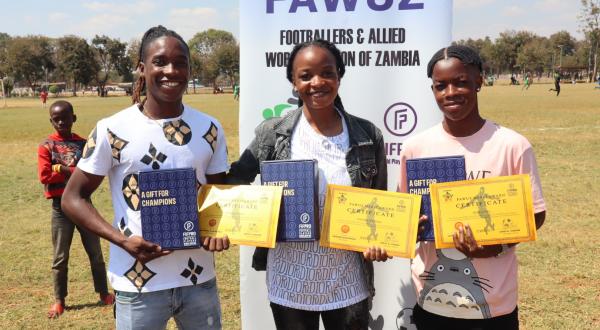 Footballers and Allied Workers Union of Zambia on Wednesday 18th August 2021 handed out The FAWUZ Merit Awards to the Copper Queens in recognition for their historical achievement of being the first-ever Zambia Women's National Team to qualify for the Tokyo 2020 Olympics, in the same atmosphere they also distributed The Secret Balance of Champions to the Olympians who came back from the recent just ended Tokyo 2020 Olympic games.
Copper Queens qualified for Tokyo 2020 Olympics earlier last year after beating Cameroon in the final round of qualifier but the participation was delayed due to the covid-19 pandemic, as the game was postponed to 2021 July, they went to play European champions the Netherlands, 2004 women's world cup finalist China and a star-studded Brazil in what was deemed as the group of death. They managed to win the hearts of many followers as they managed to recover from the 1st game 10-3 defeat to pick up a point against China and spirited performance against brazil in slander 1-0 nil loss despite going down to 10 players.
Footballers and Allied Workers Union of Zambia-FAWUZ took this opportunity to finally present the organization's most prestigious award to the Copper queens which they award on their AGM in April this year, the award has previously been won by Kalusha Bwalya among notable names.
In attendance of the people who got the  Merit Awards were;
Coach Beauty Mwamba
Barbara Banda(Shanghai Shengli)
Ireen Lungu(Green Buffaloes Women's Club)
Lushomo Mweemba(Green Buffaloes Women's Club)
Martha Tembo(Green Buffaloes Women's Club)
Agness Musesa(Green Buffaloes Women's Club)
Anita Mulenga(Green Buffaloes Women's Club)
Theresa Chewe(Green Buffaloes Women's Club)
Emeldah Musonda(Zanaco Ladies)
Judith Zulu(Green Buffaloes Women's Club)