Footballers and Allied Workers Union of Zambia (FAWUZ)
CONGRATULATION TO FAZ PRESIDENT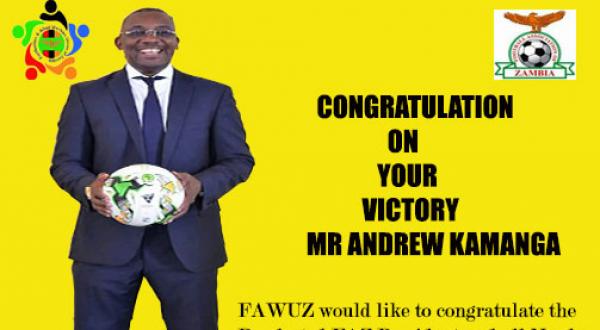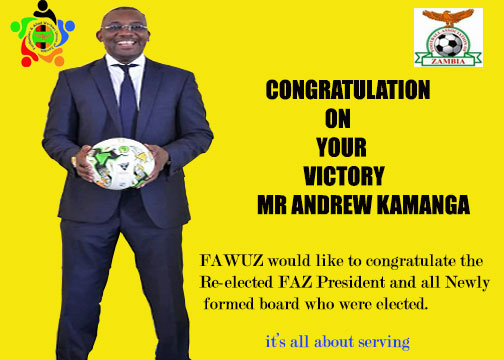 Congratulation to  FAZ PRESIDENT and the rest of the executive committee members: Jordan Maliti, Mwansa Kapyanga, Chisanga Pule, David Simwinga, Crispin Kamuna, Arthur Kamulosu, Patrick Ndhlovu, Collins Mukwala, Francis Hafwiti, and Mweemba Mujala.
Re-elected FAZ president Andrew Kamanga says he will embark on the healing process of Zambian football in his second term.
Speaking in the aftermath of his re-election that saw him garner 57 votes ahead of his challenger Emmanuel Munaile who got 29 votes, Kamanga said that he would be banking on the collective strength of his executive committee members to take Zambian football to the next level.
"Healing is a priority, looking at where we are coming from in the last four years. We want to ensure that we unite everybody and speak with one voice," Kamanga said.
"I think the new executive has a duty to bring everybody on board."
Kamanga however advised the football family to respect rules for the smooth management of the game.
"Having said that we still have to remember that football is a rule-based game and we have to follow the due process but I remain committed to this healing process because we need to start focussing on the game rather than the administrators," he said.
"I just hope that going forward, we should be able to carry everyone along so that ultimately Zambian football will be the winner."