Footballers and Allied Workers Union of Zambia (FAWUZ)
Barbra Banda eligible to play at the FIFA Women's world cup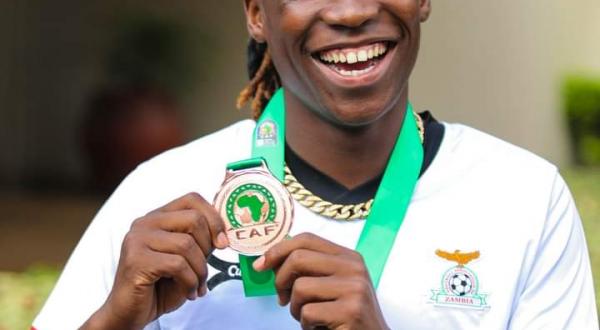 A player's mistreatment exposes flawed sex eligibility rules used by FIFA at Women's World Cup
Barbra Banda will be allowed to captain Zambia in its Women's World Cup debut and continue a promising soccer career that was thrown in doubt when she was excluded from last year's African championship in a sex eligibility case mishandled by authorities.
While officials blamed each other, Banda was forced to sit out the tournament and endure unforgiving scrutiny about her gender for no apparent reason.
FIFA says the 23-year-old Zambia forward, her team's star player by a mile, is eligible to play at the World Cup. Soccer's governing body has never questioned that she's female.
Yet while the African and Zambian soccer bodies botched Banda's case, FIFA is largely to blame, say rights groups, charging its policy on a heated issue gave no proper guidance and left a young woman exposed to harm in a game overseen by one of sport's richest organizations, which even has its own human rights department.
Banda was "blindsided" by soccer authorities, said the prominent NGO Human Rights Watch.
Nearly 15 years since the case of South African runner Caster Semenya lit a firestorm of controversy about sex eligibility in sports, FIFA's outdated rules fail to protect its female players from "stigmatizing, stereotyping, and discriminatory" treatment, HRW added.
FIFA's regulations were published in 2011 and haven't been updated, while sports like track, swimming and others have prioritized the issue and made several changes to their policies, even if some have been fiercely criticized.
The guardian of the world's most popular sport is lagging way behind, its critics say.
FIFA says it is working on new regulations, but there is no indication it will have them in place before the Women's World Cup opens on July 20.
Driving excellence and integrity in healthcare
"What is stopping them?" asked Payoshni Mitra, an advocate for athletes' rights who has advised sportswomen in sex eligibility cases. "They have done stakeholder consultation, they are committed to human rights principles, but the final outcome needs to be seen."
Mitra praised the work of FIFA's human rights department and said there had been a commitment to update its rules, but it was long overdue because they currently left players like Banda exposed to a flawed process.
"It's a concern because FIFA is committed to human rights and therefore they must protect their athletes from arbitrary scrutiny and unnecessary humiliation. They must take care of their footballers and that must be a priority," Mitra said. "If anyone has that infrastructure, it's FIFA."
While speculation swirled that Banda had failed a sex verification test at the Women's African Cup, or had taken a test that showed high testosterone levels, her agent said none of that was true. Anton Maksimov said at the time that she was removed from the squad ahead of the tournament by Zambian soccer officials based on an "evaluation of her physical conditions."
"Nothing, no existing regulations that we are aware of, prevents Barbra's participation," he said.
Zambia said it was following the requirements of the Confederation of African Football, the tournament's organizer. A Zambia team doctor, obliged by the African soccer body's rules to sign a one-page form for each player's sex verification, apparently decided not to sign off on Banda.
Banda's case has nothing to do with the issue of transgender women competing in female sports. Banda was identified as female at birth, so the criteria used to sideline her, which hasn't been clarified, is the key.
CAF sets the eligibility rules for the African Cup, but they largely follow FIFA's, even using some of the same wording.
FIFA, and as a result CAF, don't have rules setting any limits for testosterone levels for female players, as other sports do. They don't broach the subject of sex variations in female athletes, which other sports have. Neither soccer bodies give a clear guide on how players should have their sex "verified" but they both put the onus on teams to do it.
And so, team doctors are interpreting the regulations "the way they want," Mitra said, sometimes even using testosterone limits set by other sports.
"I can see how mismanaged this entire thing is at the national level," she said. "Officials in national federations have no awareness about these issues."
CAF and the Zambian soccer association haven't commented on the details of Banda's case, which protects her confidential medical information but sometimes leads to an opaque process. What is clear is that no one could refer to any clear guidelines when making a career-affecting decision for Banda.
Banda is still committed to Zambia and said in an interview with South African broadcaster SuperSport that she's looking forward to the Women's World Cup. It'll be her return to the global stage after she scored hat tricks in successive games at the Tokyo Olympics in 2021 to grab attention in a low-ranked team.
"I'm very determined in whatever I do," she said.
Jarringly, Banda was not alone in the bungled case. Zambia soccer association president Andrew Kamanga said other players were also removed from the squad last year because of the regulations. They were not identified and no details have been released on their cases.
Human Rights Watch said that by giving team doctors little direction, soccer's policy "encourages" them to fall back on the invasive physical examinations of women for sex verification that sparked outrage about track and field's treatment of Olympic champion Semenya, Indian sprinter Dutee Chand and others more than a decade ago, and which should have sounded a blaring warning call to all sports.
"There is precedent," HRW said, "for this harm."
Story Credit: AP coverage of the Women's World Cup: https://apnews.com/hub/fifa-womens-world-cup and https://twitter.com/AP_Sports